OVERVIEW: PART B
The goal of Part B is to examine treatment with the study drug every 4 weeks at the doses selected based on data from Part A. There are two cohorts in Part B: (1) Previously Treated participants who previously received the investigational SRP-5051 treatment in Part A of this study or in study 5051-102 and (2) Treatment-Naïve participants newly enrolled in the study who have not previously received the investigational SRP-5051 treatment.
The study is closed to enrollment.
Participant Eligibility Criteria for Participants Treatment-Naïve to SRP-5051
Your child may be eligible to participate in Part B of the Momentum trial if he meets the following eligibility criteria:
Ambulatory and non-ambulatory boys with DMD who are 7-21 years old and Treatment-Naïve
Has a genetic diagnosis of DMD and an out-of-frame deletion mutation of the DMD gene amenable to exon 51-skipping treatment. Talk to your doctor if you are unsure.
Has been on a stable dose of corticosteroids for at least 12 weeks, or has not received corticosteroids for at least 12 weeks prior to receiving SRP-5051
Has stable lung (breathing) and heart function.
Has not received treatment with any exon-51 skipping therapy within 4 weeks prior to Screening, or with any experimental gene therapy for the treatment of DMD at any time
Does not have hypomagnesemia at Screening, serum creatinine above the upper limit of normal at Screening, or any other abnormal electrolyte values considered clinically significant by the study doctor at Screening.
Additional requirements for participation will be reviewed with participants and their families during the screening process.
Frequently Asked Questions
SareptAlly is a clinical trial participant matching service for Sarepta-sponsored studies.
A Patient Navigator can help you understand your clinical trial options.
Exon Skipping for Duchenne
About Duchenne
Duchenne is a rare, life-shortening genetic disorder that affects boys and causes their muscles to break down and lose strength over time. Duchenne is caused by specific errors (mutations) in the gene that codes for dystrophin. Dystrophin is a protein that plays a key role in the function of muscle cells and protects them from damage as muscles contract and relax. These mutations in the dystrophin gene lead to a lack of dystrophin protein in muscles. Without enough dystrophin, muscles gradually grow weaker until they can't move at all, and eventually breathing and heart function are lost.
About SRP-5051
SRP-5051 is an investigational drug designed to treat Duchenne in patients who have a confirmed mutation in the dystrophin gene that can be treated by skipping exon 51. It uses a technology called exon skipping.
About Exon Skipping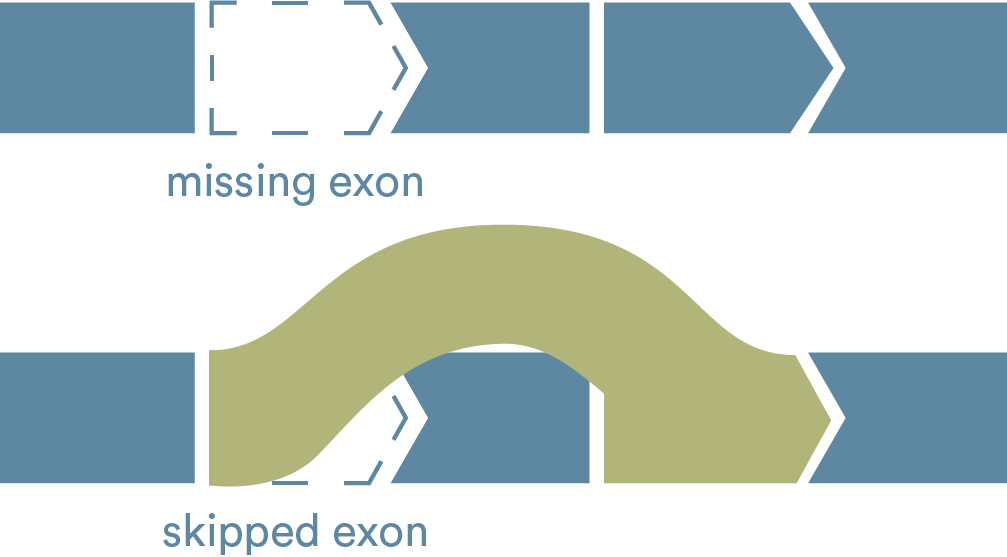 Exon-skipping technologies strive to address the underlying issue with Duchenne—a lack of the protein dystrophin. Many people with Duchenne have a genetic mutation in which one or more exons in the dystrophin gene are missing. This causes errors in the instructions for making dystrophin, leaving the body unable to produce the protein.
Exon skipping tells the body to hide an exon next to the missing piece so the whole section can be skipped over and the remaining exons can fit together. The goal of exon skipping is to allow the body to make a shorter form of the dystrophin protein.
Interested In Learning More?
Trial Locations
The MOMENTUM Study has sites planned in the United States, Canada, United Kingdom, and EU.  To see a current list of participating global study centers, visit clinicaltrials.gov